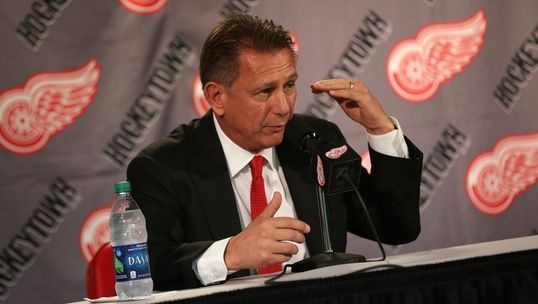 CLOSE

Red Wings general manager Ken Holland has a press conference after agreeing to a one-year, $1.38 million deal with Andreas Athanasiou on Friday, Oct. 20, 2017.
Helene St. James, Detroit Free Press
Tomas Tatar scored twice as the Detroit Red Wings salvaged a point at home.
The Wings scored shorthanded, at even strength and on a power play but were beaten on power play goal in overtime to lose, 4-3, Friday to the Washington Capitals at Little Caesars Arena. 
Petr Mrazek had made a handful of big saves before giving up a goal to Andre Burakovsky in the last minute of the second period. Darren Helm had given the Wings a 1-0 on a shorthanded goal near the start of the period. Tatar had back-to-back goals in the third period.
Done deal:  Red Wings, Andreas Athanasiou agree to one-year contract
Trevor Daley was called for tripping 1:08 into overtime and Alex Ovechkin scored the winning goal.
Here are major story lines from the game:
Third-period highlights: For a second straight game at home the Wings gave up a…