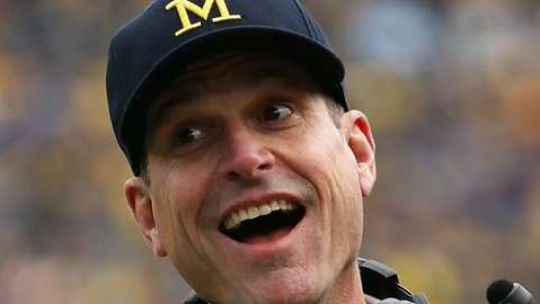 Michigan coach is causing a stir this offseason with his unique recruiting methods.
USA TODAY Sports
BRADENTON, Fla. — The fans began lining up long before 4 p.m., at which point the gates opened at IMG Academy and a high school football stadium turned into a Southern annex of the Big House for a few hours on Friday afternoon.
They erupted as coach Jim Harbaugh, khaki pants and all, ran onto the field. They sang Hail to the Victors. Then they kept packing the stands at least until Michigan began to scrimmage, at which point the sun went down and the temperature cooled to fewer than 60 degrees (Hey, even hearty Michigan fans have their limits. You don't come to Florida, after all, to be outside in jacket weather.)
Then it was over, leaving the college football world to wonder what controversy du jour Harbaugh will come up with next.
First it was satellite camps. Then it was the over-the-top obnoxious  "Signing of the Stars" event on National Signing Day.
And this week it was a five-day trip for four practices on the campus of one of the most talent-rich high schools in the…