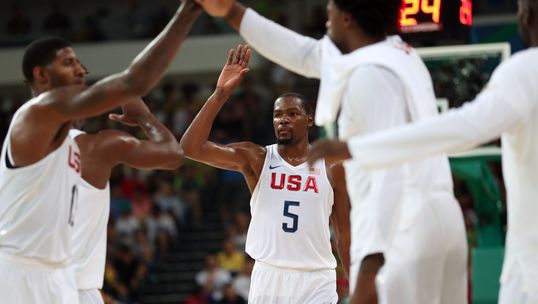 USA TODAY Sports' Sam Amick tells you five things to look for during Day 14 of the Games.
USA TODAY Sports
RIO DE JANEIRO – Kevin Durant had to ponder the question.
Had he ever felt chills during an NBA game, the kind that made him feel the way he did in Wednesday's Team USA win over Argentina when the player-inspired chants of "U-S-A" came pouring down?
"I had some chills when we went to the Finals in 2012 (with the Oklahoma City Thunder); a tear rolled down my eyes in that moment," Durant, who signed with the Golden State Warriors last month, said after practice on Thursday. "But you can't really put into words (what it feels like when) you're so united like that.
"You look in the stands, and you see everybody that has an American flag on, or red, white and blue. And it's not about the Warriors or the Raptors or the Clippers or the Knicks, it's all about Team USA."
All during the Olympics, a debate has circulated about the true meaning of a gold medal to the modern day NBA player. New York Knicks star Carmelo Anthony said his two…
Read Story