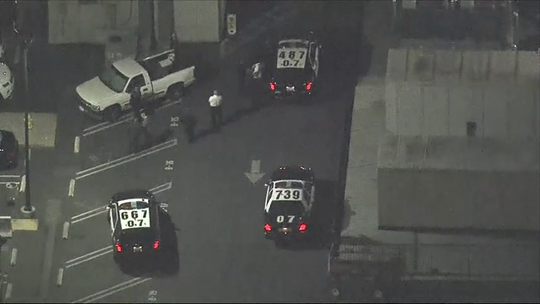 Los Angeles police say two men were arrested on suspicion of criminal trespassing, after allegedly rushing the stage at 'Dancing with the Stars' after Olympic swimmer Ryan Lochte performed Monday. (Sept. 13)
AP
At least one man stormed the stage and threw something at Olympic swimmer Ryan Lochte during Monday's live premiere of Dancing with the Stars, according to multiple reports.
Dancing with the Stars judge Carrie Ann Inaba could be seen on the footage telling somebody to get off the stage.
"Hey! Excuse me," Inaba said as Lochte stood alongside his dancing partner, Cheryl Burke. "Back off!"
Host Tom Bergeron took the show to commercial and ABC didn't broadcast what took place at or near the stage, but a person could be seen running in front of a camera. 
 
Lochte brushed the side of his head and looked uneasy before the show cut to commercial.
"So many feelings are going through my head right now," Lochte said in a DWTS interview…