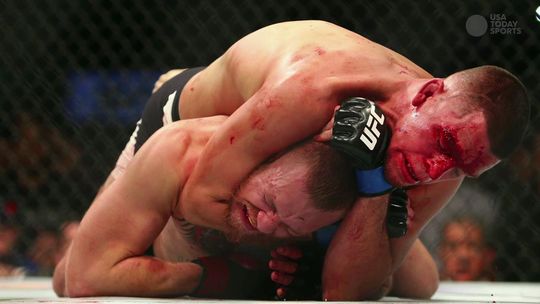 USA TODAY Sports' Martin Rogers breaks down a stunning evening in Las Vegas, where both Holly Holm and Conor McGregor fell in the featured fights.
USA TODAY Sports
LAS VEGAS — Miesha Tate stunned Holly Holm Saturday night at UFC 196, defeating the bantamweight champion by submission with a rear naked choke hold.
Holm, who won the belt in November with a shocking victory over Ronda Rousey, was making her first title defense.
After surviving a brutal takedown by Tate in the second round of their bout at UFC 196, Holm regained control of the fight. But that ended about halfway through the fifth and final round when Tate scored another takedown.
Tate dug her arm under Holm's neck and held on tight as Holm tried to flip her off. The two women landed on the canvas where Tate maintained her hold and Holm lost consciousness.
"I thought I had to be like a pit bull on a bone,'' said Tate, who improved to 18-5 and won her first UFC championship belt. "I coudn't let go.''
Tate's victory creates interesting matchups…